Announcements
Inviting Nominations for the Rajiv Gandhi National Awards-2020
Inviting Nominations for the Chittoor District Centenary Awards-2020.
Contact Us
DR. D. SUNDAR RAM
Founder and Director
Academy of Grassroots Studies and Research of India (AGRASRI)
# Plot No.11, Sri Venkata Sai Nilayam
Thummalagunta, S.V. University P.O.
Tirupati-517502, Andhra Pradesh. India
Mobile: +91-6302947338, +91-9441245085
E.mail: drsundarram@gmail.com | agrasridirector@gmail.com
Website: www.agrasri.org.in
Founder Chairman
DR. SUBHASH C. KASHYAP
Former Secretary-General of Indian Parliament (Lok Sabha)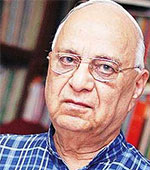 Dr. Subhash C. Kashyap is an eminent Constitutional expert and former Secretary-General of Lok Sabha (Lower House of Indian Parliament), New Delhi. He is well known Political Scientist, expert in Indian Constitution, Constitutional Law, Parliamentary Experts and distinguished scholar. He also headed an International Centre for Parliamentary Documentation, IPU at Geneva till 1983. He was Honorary Constitutional Advisor to the Government of India on Panchayati Raj Laws and Institutions. He is the recipient of several prestigious awards for the Best Books in Constitution, Law and Political Science. At present Dr. Kashyap is the Honorary Research Professor at the Centre for Policy Research (CPR), New Delhi. He was also a Member of the National Commission to Review the Working of Constitution and Chairman of its Drafting and Editorial Committee. He received Padma Bhushan award from the President of India in the year 2015. He is the President of the Indian National Bar Association. Dr. Subhash C. Kashyap is the Founder Chairman of the Academy of Grassroots Studies and Research of India since 2002 onwards.